Our licensed physical therapists, occupational therapists and speech-language pathologists have specialty training and expertise in pediatrics and work together to provide comprehensive care that meets your child's individual needs.
A Team Approach
Trained professionals in pediatric therapy and rehabilitation evaluate children's functional abilities and develop individualized treatment plans to help maximize independence and quality of life. Team members use a variety of techniques and technologies to:
Support growth and development
Prevent future complications and impairments
Relieve pain
Improve cognitive abilities
Improve strength, coordination, range-of-motion and tine motor skills
Relax muscles
Develop self-care skills
Enhance speech and language skills
Address swallowing and feeding problems
Teach the correct use of wheelchairs, braces and other assistive devices
Who Can Benefit?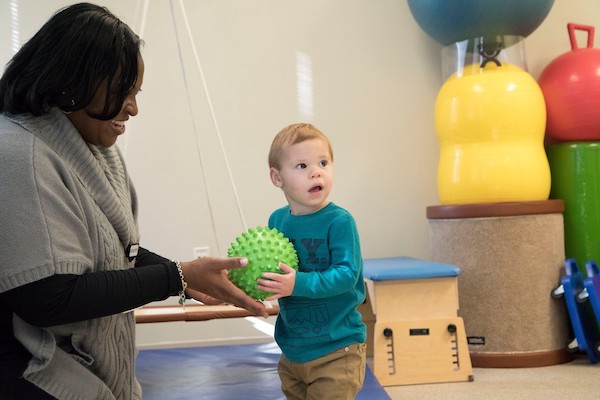 Therapists use fun, age-appropriate activities to help kids develop key coordination, motor and hand-eye abilities and verbal skills. The gains that children make during rehabilitation therapy often help them to perform at or closer to age level and improve their self-confidence and self-esteem.Children can benefit from therapy if they have:
Birth defects or birth injuries
Neurological, musculoskeletal or rheumatologic conditions
Orthopedic conditions, either from injury or congenitally
Developmental delays
Acute traumas
Cancer
Surgical recovery needs
Chronic diseases (such as sickle cell, heart or kidney diseases)
---
Questions? Contact the Physical Therapy & Rehabilitation clinic at 540.316.2680.